Using the left sidebar, you can select the projects that you want to view on your board. Choose between displaying tasks from a single project, multiple projects, or viewing project hierarchy. 
Select a Single Project
To view a single project on your board, click on the Project Name in the left sidebar. Alternatively, you can also use Single Project Search to quickly open a project.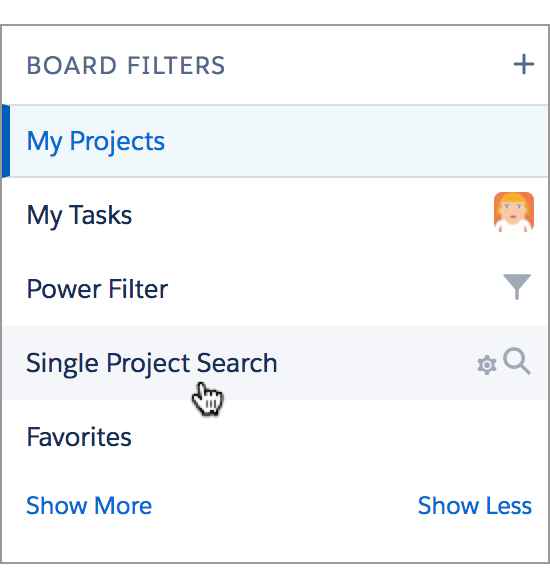 When in the single project view, you can choose to view the project in one of the regular views, or you can enter Task Group Mode (available in Kanban and Row Views).
In regular view, you can create new tasks using the Quick Add feature. Using Quick Add in single project view automatically associates the new tasks with the selected project (in other words, the Project field in the Task Details automatically gets populated based on the selected project).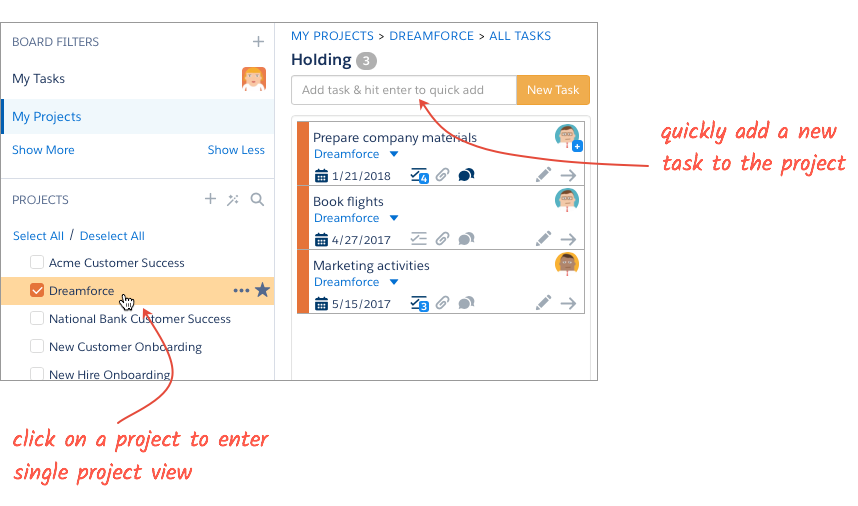 Task Group Mode
When in single project view, it is also possible to enter Task Group Mode. To do so, use the toggle at the top of Kanban and Row Views.

Task Group Mode allows you to see the project organized by task groups. In this view, you can create new task groups, add tasks to task groups, and change the sort order of task groups within the project. You can learn more in the Task Groups category of the guide.
Select Multiple Projects
You can view multiple projects at once by clicking on the checkboxes that are located next to the project names in the left sidebar. To add a project to the board, click on its checkbox to select it. You can select as many projects as needed.
To deselect a project and remove it from your board, uncheck that project's checkbox.
Tip: You can also hold down CTRL on a PC / Command on a Mac and click on project names to select multiple projects.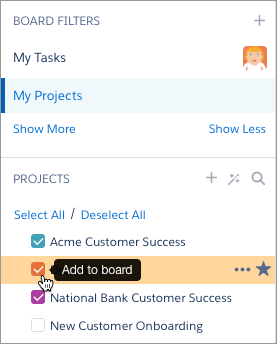 Note: Task Group Mode and Task Quick Add are not available when multiple projects are viewed on the board.
Select Hierarchy
Projects may be nested in up to 5 levels of hierarchy with parent projects and sub-projects. When selecting to view the parent project, you will have the option to view all of the related sub-projects on the same board as well.
If you have a hierarchy of projects, in the left sidebar, locate the parent project and hover over it. Click on the More Actions button that appears.
Select Toggle Hierarchy from the dropdown. This will select to view or hide all projects in the hierarchy.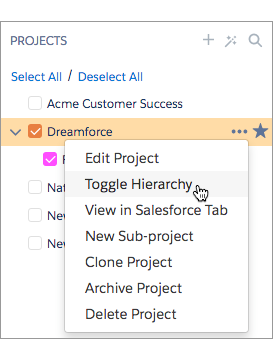 You can also use single project search to view project hierarchy. For example, you can search for the parent project in a hierarchy and then click on Show hierarchy in single project search, which will list all associated child projects in the left sidebar. To hide the hierarchy, click on Hide hierarchy.