In TaskRay, there are a few different approaches to create new projects. You can create new projects, new sub-projects, as well as clone templates to create new projects. Additionally, you can also build projects by combining templates or parts of templates using the Stitcher.
Once you create a new project, you can begin by either adding tasks or adding task groups to it. 
Tip: Task groups can help define the structure of the project and provide a foundation for organizing tasks.
Create a New Project
From the Work tab, in the left sidebar, click on the Plus icon at the top of the Projects section.
Select Create New Project. 



Note:

 If you have Record Types enabled, you will be asked to select a 

Project Record Type 

first, which will appear instead of the Create New Project option in the dropdown. You can learn more about record types

here

.

This will open the New Project Details screen. Enter the Project Name along with any other necessary information. 



Tip:

The fields on the Project Details screen can be customized to suit the needs of your organization. You can read about customizing the Details layout in the

Add Custom Fields to Projects and Tasks

.

Click Save & Next. 
Optional: Add Team Members to the project. Under the Team tab, in the search field, start typing the name of the User, Queue, or Public Group you want to add to the project and click on name to make your selection. 



Note: 

If

project privacy

is enabled, you will also be able to manage user privacy settings from this tab.

Optional: Connect Chatter Groups to the project. Click on the Chatter tab. In the Add Project to the following Chatter Group Filters field, click to add one or multiple Chatter Groups. If you connect Chatter Groups to the project, that project will appear in all board filters that use a Chatter Group filter to sort projects.
Click Save or Save & Close.
A new project will be created and added to your sidebar. TaskRay will automatically switch to Single Project Search, allowing you to start adding tasks to the new project right away.
You can also create new projects from the Portfolio tab in Project View by clicking on the New Project button in the header and following the same steps as outlined above.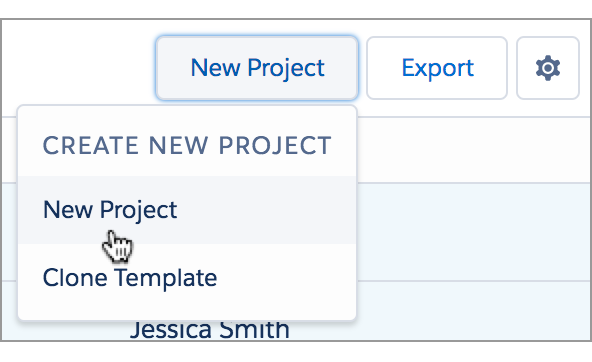 Did you know? If you create a project while a Chatter Group filter is selected, TaskRay will automatically share the project with the currently selected Chatter Group.
Create a New Sub-Project
Projects may be nested in up to 5 levels of hierarchy with parent projects and sub-projects. You can read about project hierarchy and creating sub-projects in the
Project Hierarchy
 support topic.
Create a New Project from Template Clone
You can create new projects using saved templates. A project that is created using a template will clone all of the tasks, but will have adjusted dates based on your specifications (adjusted dates occur only if dependencies are enabled in your org). You can learn more in these articles:
Stitch a Project
Projects can also be built using the Stitcher. The Stitcher allows joining together multiple template projects and task groups to make a single project. For more information, go to the Stitcher article.