Baselines are snapshots of a project at a set point in time. They are used for reporting and to compare how a project performed over time to determine whether a project is on track to successful completion or whether there are any problem areas that have occurred.
When a baseline is set on a project, TaskRay will take a snapshot of the project, its task groups, and its tasks. By default, baselines in TaskRay track standard information, such as project start and end dates at the time of setting the baseline, project progress at the time of the baseline, as well as any logged time entries (if Time Tracking is used). However, it is also possible to track additional custom information on baselines. For more information on tracking custom fields, see this article.
As baselines are set on a project, they can be selected for visual reference in TaskRay Plan View to see how individual tasks are performing over time. In Plan View, it is possible to view a baseline and compare it to the actual project.
When a baseline is selected, you will notice that all of the bars on the timeline will have "shadow" bars below them. The "shadow" baseline bars will reflect the dates and statuses of the tasks at the time of when the baseline was set. The baseline bars will be color-coded for quick reference. Any task that was open (incomplete, but not overdue) at the time of when the baseline was set, its baseline bar will appear in gray; any task that was overdue will have a red baseline bar and any task that was complete will have a green baseline bar.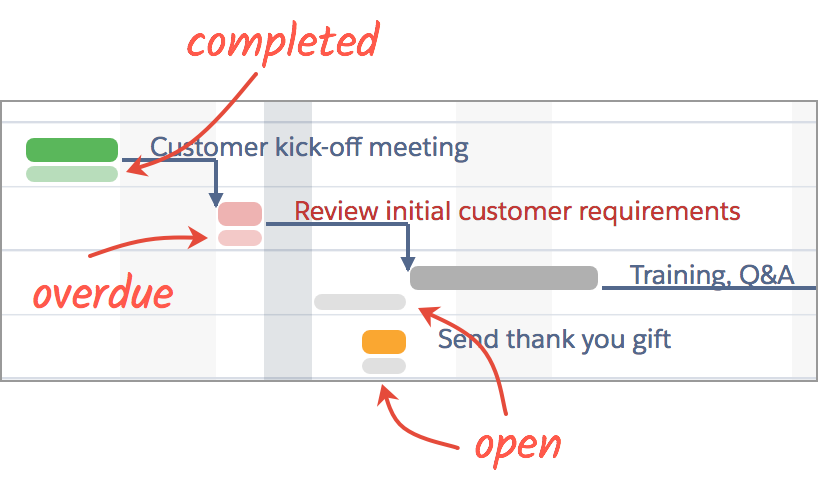 Notice, that as you reschedule the tasks or change the task statuses on the actual project, the baseline bars on those tasks remain in the same place and in the same color on the timeline.
To learn how to set baselines in TaskRay, please reference this article: Set Baselines.