You can follow activity on projects and tasks. You can select to either follow specific projects or tasks, or you can opt in to auto-follow activity. When you opt in, you will be updated on any Chatter activity on the project or task in your Chatter feed in Salesforce.
Note:
Salesforce has a limit on the number of records that can be followed in Chatter (see
General Chatter Limits
article). If you find that you have reached that limit, you can change your TaskRay follow preferences under
Tools and Settings
.
You can select specific projects and tasks that you want to follow.
Locate the Project or Task that you want to follow and open its Details.
Click on the Chatter tab.
Click on + Follow on the right.
Close Project/Task Details.

You can select to auto-follow all task activity for selected projects.
In the All Work tab, in the left sidebar, hover over the project for which you want to follow task activity and click on the More Actions icon that appears.
Select Edit Project. Alternatively, double click on the project.
This will open the Project Details. Select the Team tab.
Next to your name, click Follow TaskRay Chatter. It is possible to view but not edit other Team Member's auto-follow status.
Close Project Details.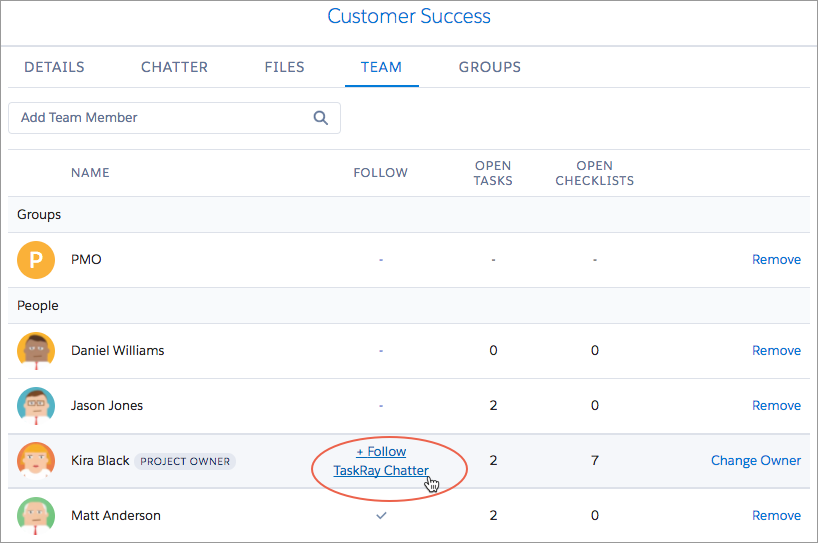 Note:
For the projects with this option selected, if you notice task cards not marked as following, check to ensure that you have not exceeded your
Chatter Follow limits
. You can also
set a preference
to automatically unfollow any tasks after the project has been archived.
Tip:
You can also auto-follow Chatter on projects from the left sidebar in the All Work tab, or from Portfolio View in the Performance tab. To do this, hover over the row for the project on which you want to follow Chatter, click on the
More Actions
icon, and select
Follow TaskRay Chatter
.