Resources are one of the core mechanisms for managing teams in TaskRay. With resources, organizations have an overview of all TaskRay team members and their roles, thus ensuring accurate assignments at the time of delegating work. 
Think of every TaskRay user as a resource. As such, this should be one of the first places to review when setting up new TaskRay users to ensure that the resources accurately reflect all applicable user details, such as their roles.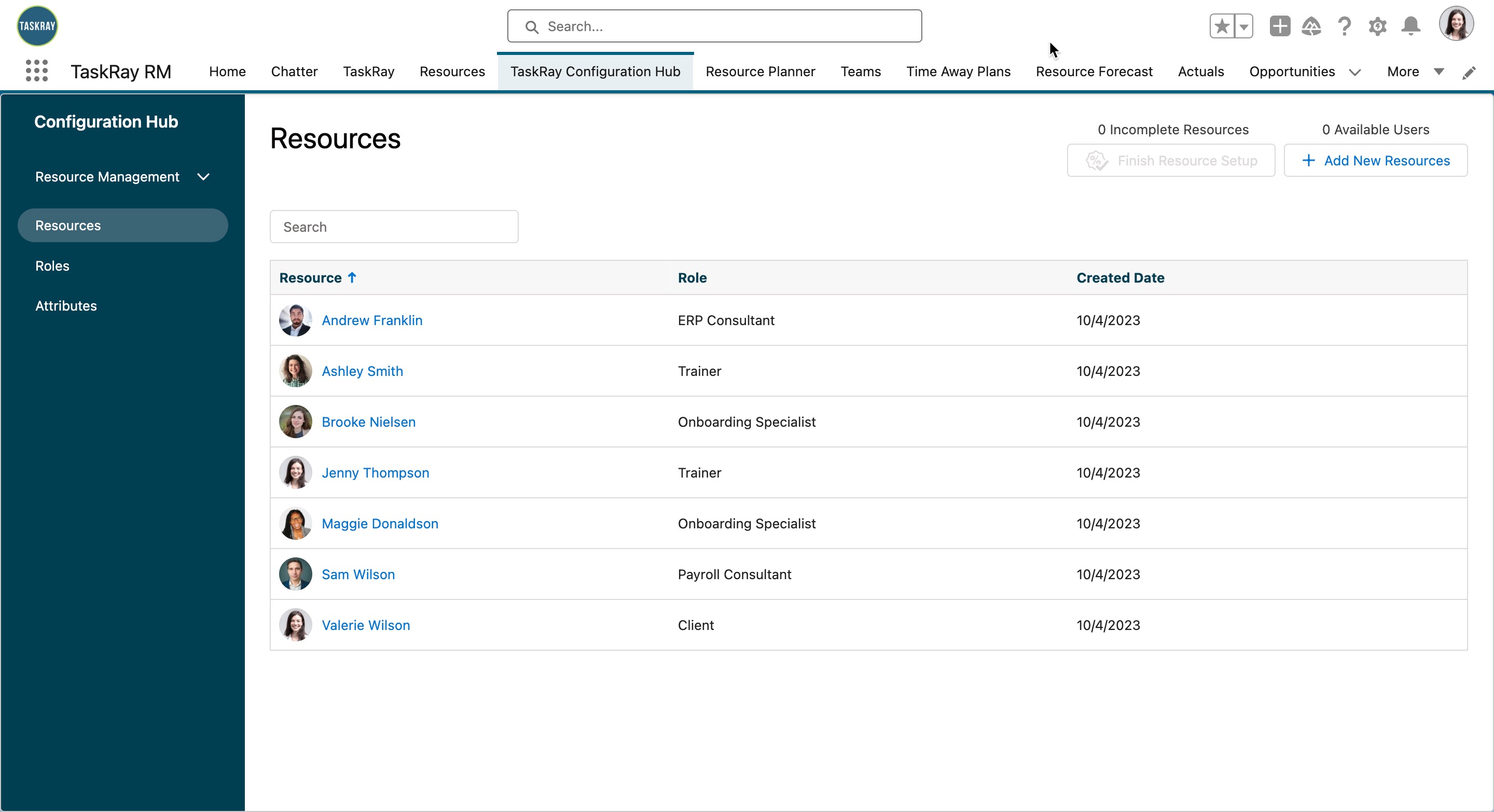 Note: The Resources tab in the Configuration Hub is accessible by users who have either the TaskRay - Admin Access or TaskRay - Resource Manager Access permission set assigned. 
Follow the steps below to quickly add and configure resources.
Navigate to the Configuration Hub and select the Resources tab
Click on the + Add New Resources button in the top right corner.
This will open a Setup Resources modal. Using the checkboxes, select TaskRay users that you want to configure resources for. Click Next.

On the following screen, use the Assign Role search bar to apply a role to the resource. Click Finish.

Note: 

If the necessary role has not been configured at the time of setting up the resource, you will need to go back and create the role before completing the resource setup. To do this, leave the Assign Role field blank and click on the 

Finish Setup Later

button. Next,

set up the necessary role(s)

and then resume resource configurations by clicking on the 

Finish Resource Setup

button in the top right corner of the Resources page, or searching for the Resources in the table and managing them individually.  

Repeat the steps for any other additional resources.
After initial creation, Resources can be further updated and customized in Configuration Hub. Follow the instructions below to edit a Resource:
If you are not already on the page, navigate to the

Configuration Hub

and select the

Resources

tab.

Click on the Name of the Resource you'd like to edit to open it.

Make your updates.

Click Save.
In the event that a user is assigned work or added to a project before a resource has been configured for them, TaskRay will automatically create a placeholder resource entry for that user. Automatically created resources will also appear in the Resources tab of the Configuration Hub. In order to complete setup for such resources, click on the Finish Resource Setup button and follow the prompts.
Due to the complex nature of behind the scenes automations for Resources and related objects, we do not support bulk Resource CUD (Create, Update, Delete) operations through Salesforce features e.g. Data Loader.