The May 2020 Release of TaskRay is live and we're excited about the new features focused on increased customer collaboration and extending the use of TaskRay to more areas of Salesforce. A brand new contextual component allows users to access TaskRay Views directly from Salesforce record pages, and a new suite of setup tools makes it easier than ever for administrators to include TaskRay in Salesforce Communities or start sharing read-only External Sharing links for their projects.
This article will walk through some tips and best practices for implementing some of the brand new functionality in the May 2020 Release - let's dive in!
Start Using the TaskRay Board (Contextual) [BETA] Component
The TaskRay Board (Contextual) [BETA] component is a new Lightning Component that can be added to the record page of any Salesforce object that is a parent of TaskRay Projects. The component can be easily configured to display either the Kanban or Plan View and gives users the ability to work directly with TaskRay Projects related to the record which they're already viewing in Salesforce.
For a Customer Success Manager, it's really useful to be able to understand the progress and status of all customer projects directly from that customer's Account record. For an Account Executive, it's helpful to see how a customer onboarding project is tracking directly from the Opportunity that sourced the deal. And especially for organizations that love TaskRay and use it frequently, narrowing the scope of data in a contextual view by only focusing on the projects related to a given record can make it much easier for users to find and execute their most important tasks.
To get started with the new contextual component, simply edit the record page of an object that's a parent of the TaskRay Project. TaskRay Projects have built-in relationships with the standard Account and Opportunity objects, so this is a great place to start.
When editing a record page, simply add the component to a section of your page. We recommend allowing for enough horizontal space on your record page to display either the Kanban or Plan View in the component, so nesting the component inside a Tab or an Accordion is often a good approach:

It can also be useful to apply filter conditions to the component so that only specific users have access to the component on a given record page. You can learn all about creating Dynamic Lightning Pages with filter conditions here, but one easy way to get started with a filter condition is to limit access to the component to only users with a System Administrator profile: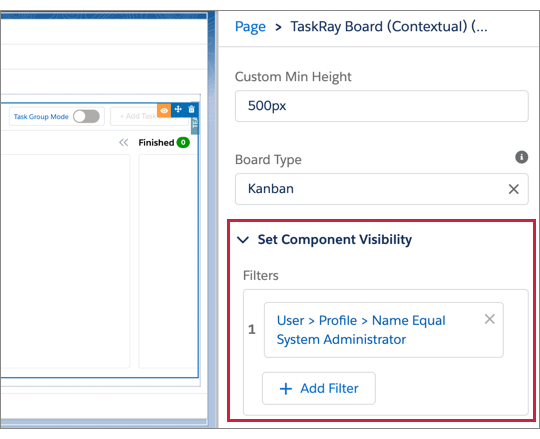 This component was released with a beta designation because our team is actively working on optimizing its performance - specifically around improving loading speed and responsiveness. We're also interested in the new usage patterns that customers will be able to take advantage of by using this new component, and we're eager to learn about and support those new patterns over time. You can expect to see the component's performance improve in the coming months and eventually be promoted to GA status in an upcoming major release of TaskRay.
Get Started with the TaskRay Customer Onboarding Community Template
Using TaskRay in Salesforce Communities is a proven way to engage with customers during onboarding, facilitate more direct collaboration, and deliver a world-class experience during one of the most important stages of the customer journey.
To help even more of our customers realize the benefits of working with TaskRay in Communities, this release includes a new TaskRay Customer Onboarding Community Template. This Lightning Bolt template can be deployed in a new Salesforce Community in a matter of minutes and provides a starting point for administrators to incorporate TaskRay components and pages to provide access to Customer or Partner Community users.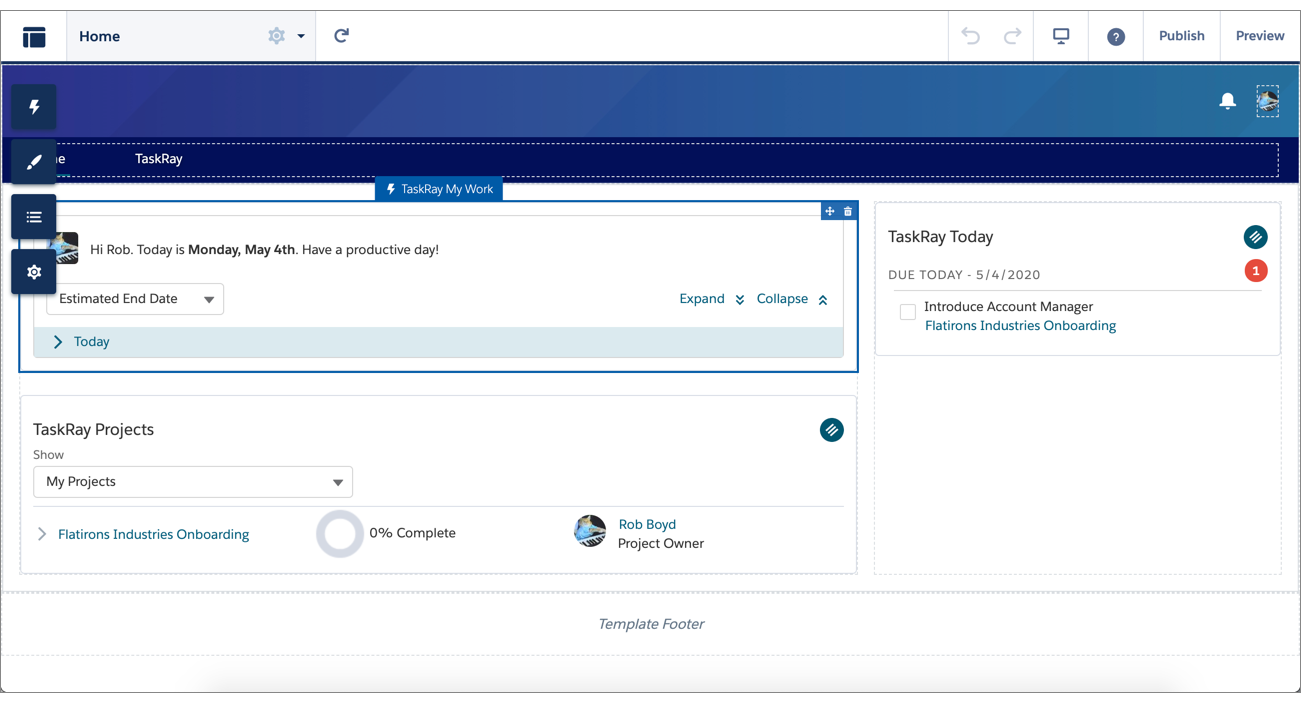 You'll find a new tab in the Tools & Settings menu for Communities that provides a link to the TaskRay Communities Guide, which includes a link to install the new TaskRay Customer Onboarding Community Template: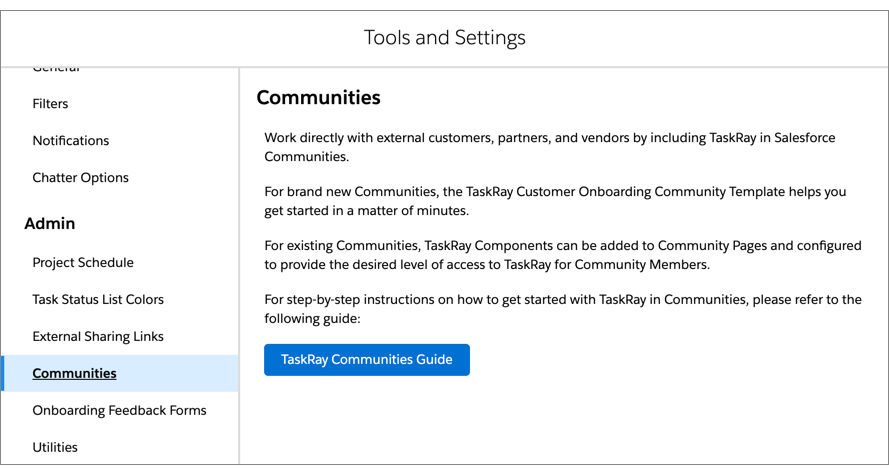 Start Using External Sharing Links and Onboarding Feedback Forms
We've also added two new utilities in the May 2020 release to help customers experience the benefits of TaskRay's advanced functionality around external collaboration. The new External Sharing Links setup utility makes it easier than ever to deploy a Salesforce Public Site and start sharing the real-time status and progress of projects with external stakeholders, and the Onboarding Feedback Forms setup utility helps you begin gathering information from customers about their experience during onboarding.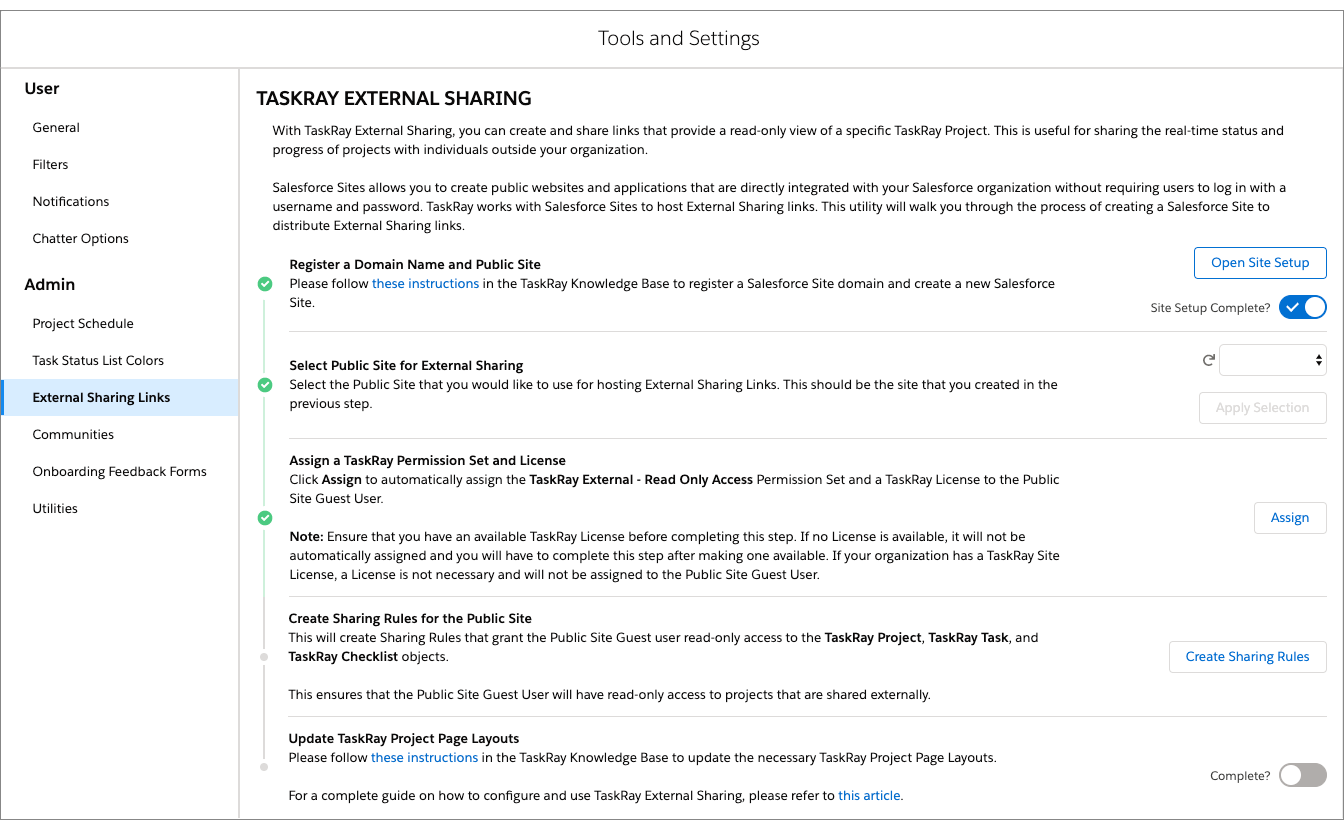 You can access these two new setup utilities from their respective tabs in the Tools & Settings menu.
For more details on everything included in the May 2020 Release, check out the release notes.