This article helps a Salesforce System Administrator add the Flux Planner Lightning Component to the TaskRay Project and/or Task Lightning Record Pages.
TaskRay Project or Task Lightning Record Page
You can decide exactly where to place the Flux Lightning Components on your pages. The screenshots in the article illustrate a recommended location, but as long as there is ample screen real estate available where you place them, the components will work fine anywhere.
Follow these steps to add the Flux Capacity Assignment Lightning Component to the TaskRay Project or TaskRay Task Lightning record detail page. The steps are the same for either object.
If you have not worked with Lightning record pages before, you can learn more on Salesforce's help community.
Launch the Lightning Record Page editor.
Add a container/location for the component.
Locate the Flux Capacity Planner component.
Drag the component to your desired location.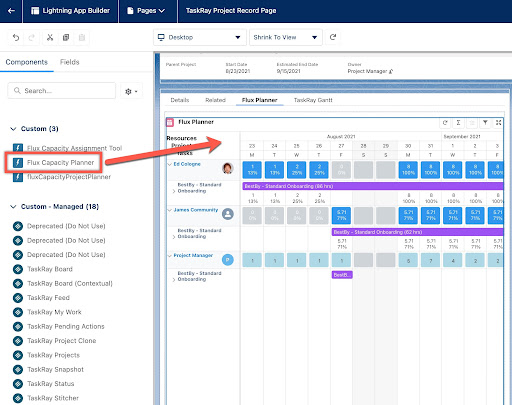 Save and Activate the page.