New Feature Alert! Task Groups and the Milestone scheduling option in the TaskRay Templates component are part of the August 2017 Release and are currently available in Sandboxes and in the AppExchange. Existing customers will be upgraded to the version of TaskRay containing these features on August 26th. If you would like to upgrade to this version earlier, please email support@bracketlabs.com for the direct install link.
TaskRay Lightning Components allow you to customize Salesforce Lightning pages and bring TaskRay to where your users are already working. TaskRay Components are a great way to embed work processes created in TaskRay into other parts of Salesforce, making it easy to collaborate on tasks and projects.
Most TaskRay Components fall into one of two categories: those that are designed for the home page and those that are built specifically for record pages. However, there are a few components that will work on both types of pages, home and record. 
Most of the record page components are contextual, meaning that they will pick up on the specific data that is relevant to the page that they are mounted on, as long as the lookup relationship between the project and the record is in place.
Tip: 
Certain components will allow you to switch between multiple projects using the arrows located next to the project name. 

In addition, TaskRay offers the Email Assistant, which you can set up for Gmail or Outlook using Salesforce Lightning for Gmail or Salesforce Lightning for Outlook. You can find more information on this feature in the TaskRay Email Assistant article.
TaskRay My Projects
Page Type: Home, Record
Not Contextual
List of all of the user's projects. Displays some key project details and statistics, as well as provides the option to follow project activity. Has two views, narrow and wide, which can be toggled in the Lightning App Builder.  
Narrow View 

Wide View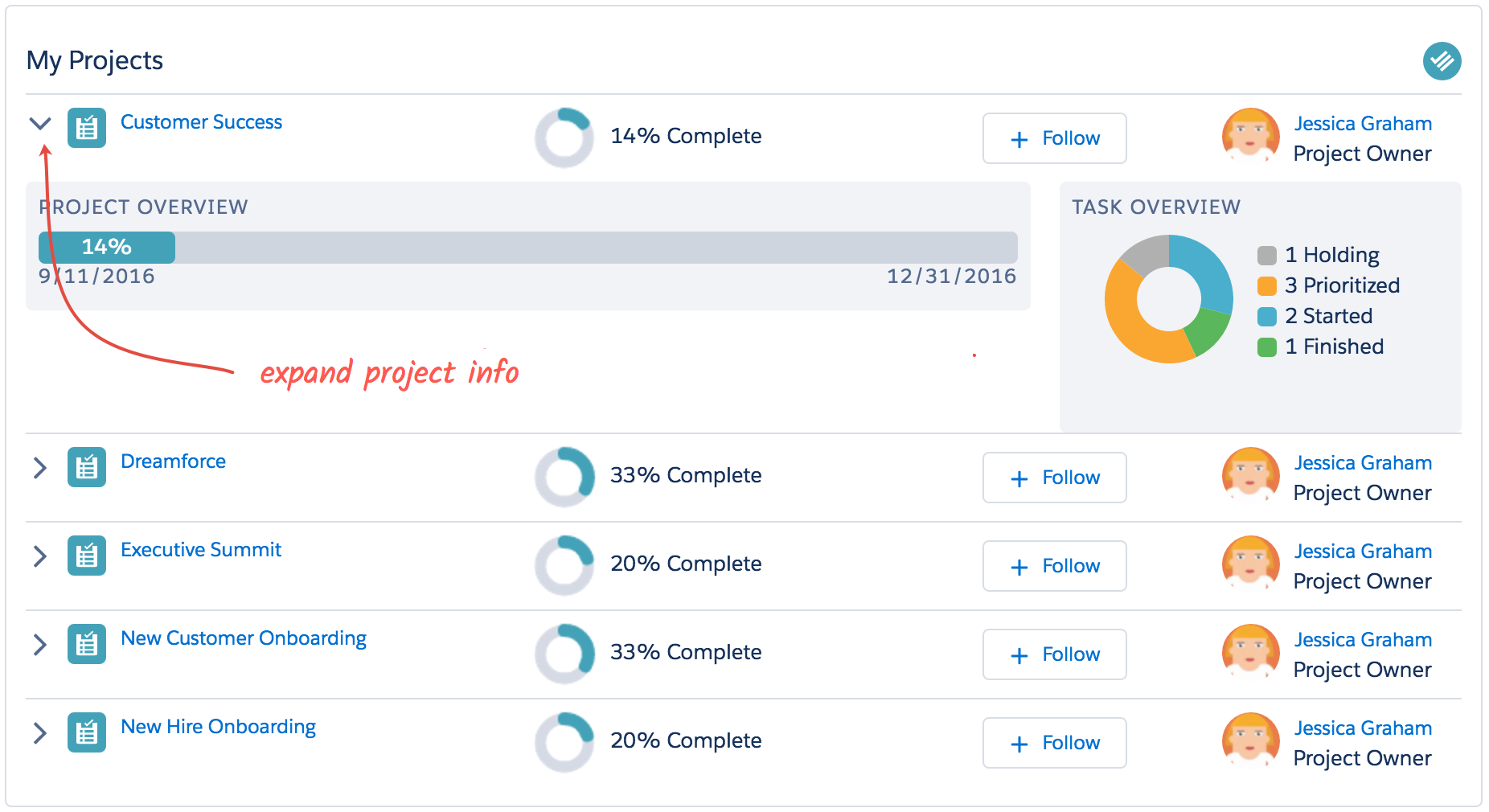 TaskRay Status
Page Type: Record
Contextual
Shows the progress of projects, along with their milestones, that are associated with a record.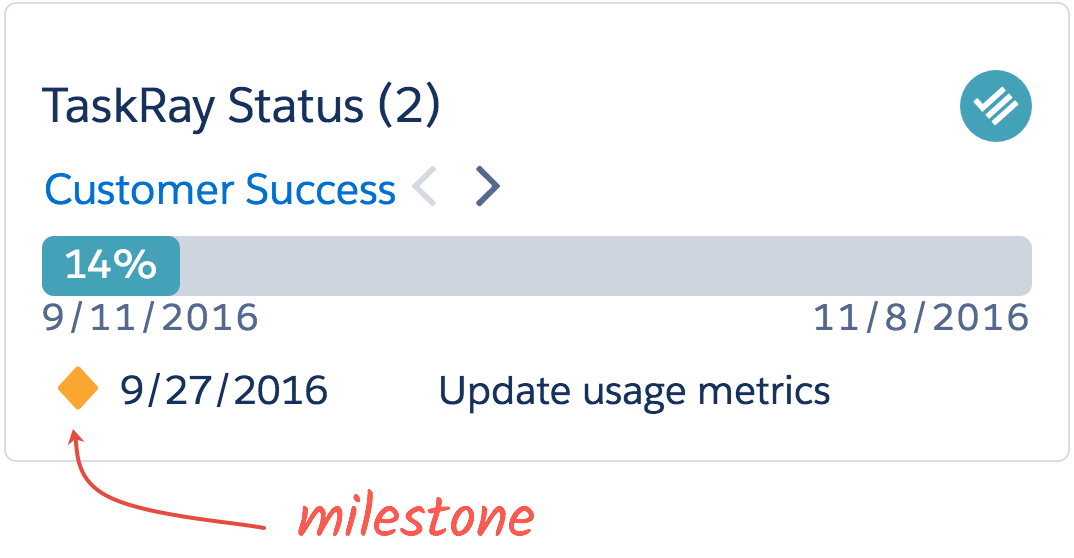 TaskRay Snapshot
Page Type: Record
Contextual
Quick project stats. A graphic representation of how the tasks are distributed across the status lists (columns on the Kanban View). Also shows any blocked or overdue tasks, if there are any for the selected project.
Additionally, if the project contains task groups, the component will also display a Task Groups dropdown. Using this menu, it is possible to select a task group to view a snapshot of tasks that are in that task group only.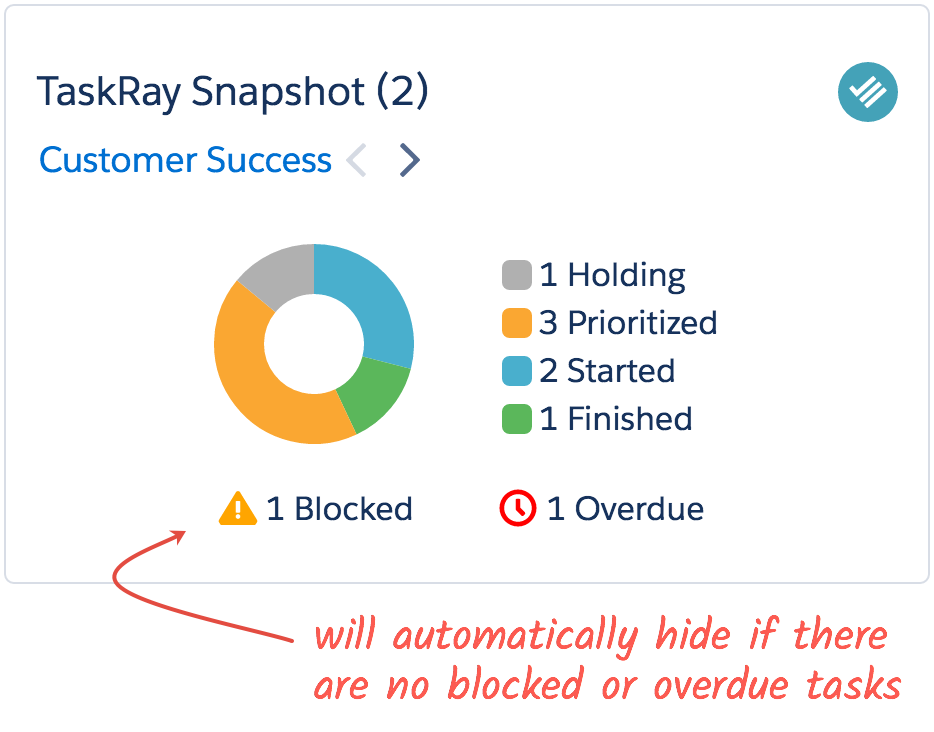 TaskRay Today
Page Type: Home, Record
Not Contextual 
Lists all of the user's tasks that are either overdue or are due today. Allows users to check off tasks upon completion. For tasks that are in task groups, the task group name will display next to the project name.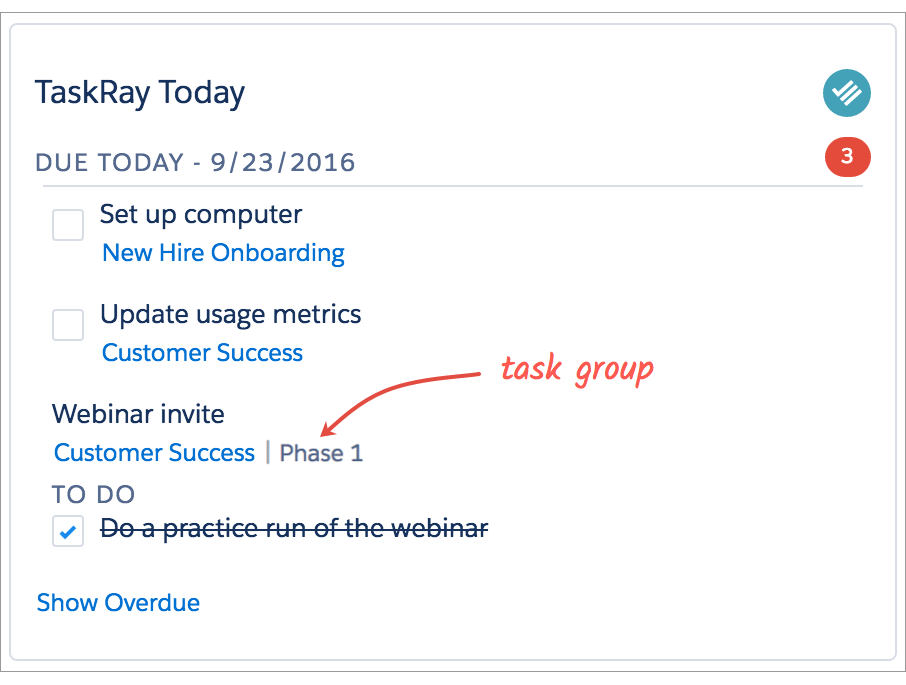 TaskRay To Do
Page Type: Record
Contextual
Shows projects and lists all unfinished tasks that are associated with a record. Allows users to organize the list by status, date, or task group, as well as check off items upon completion. 
Filtered by Status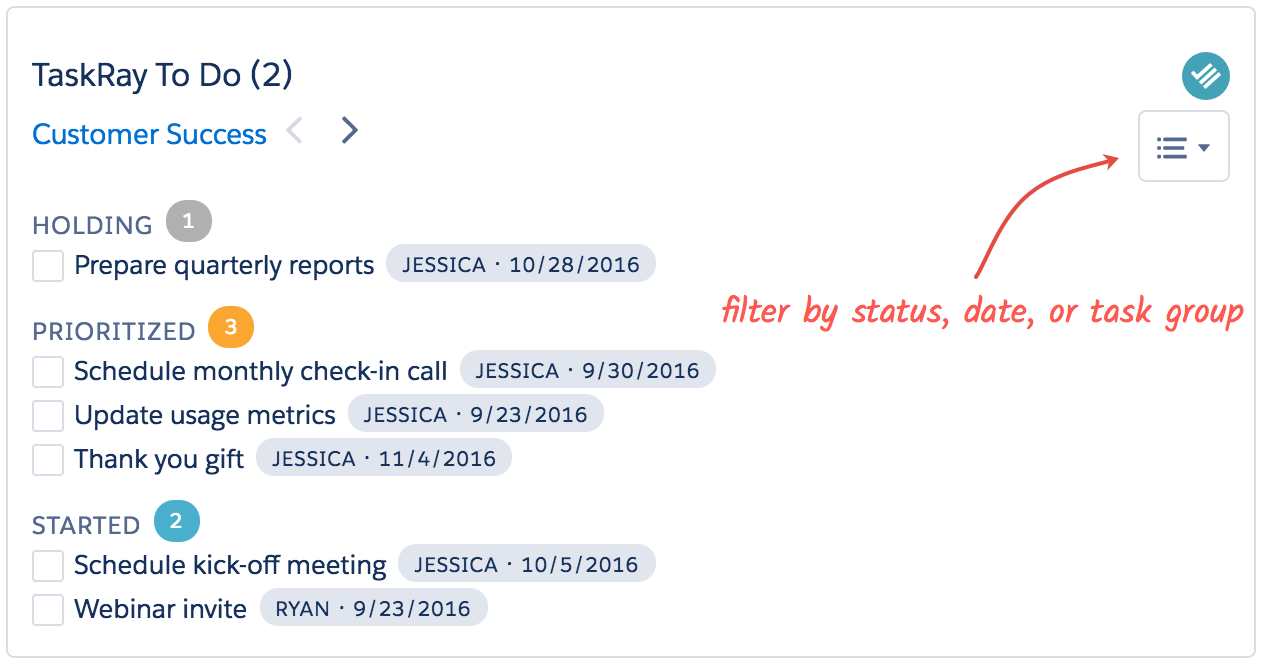 Filtered by Date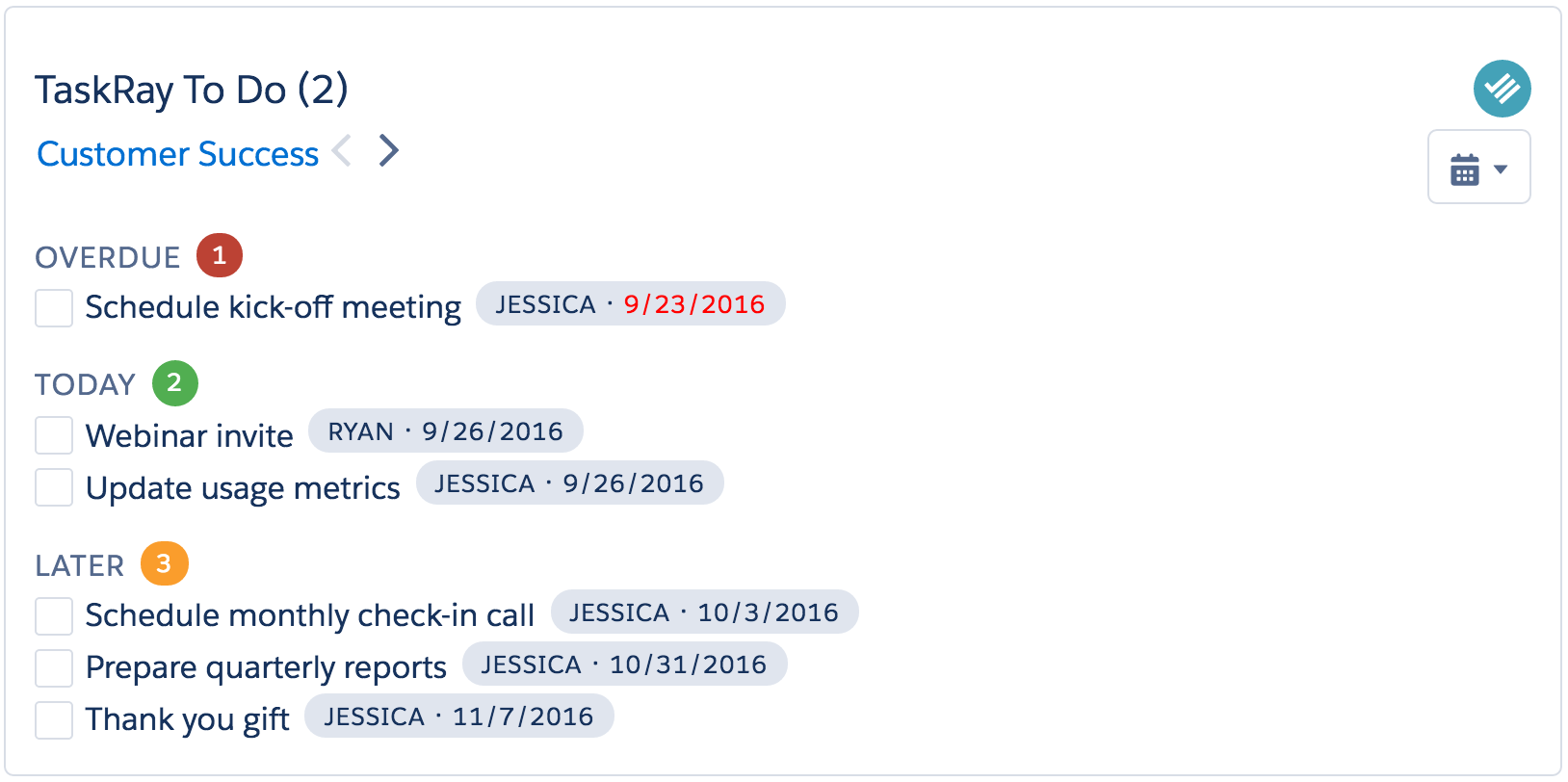 Filtered by Task Group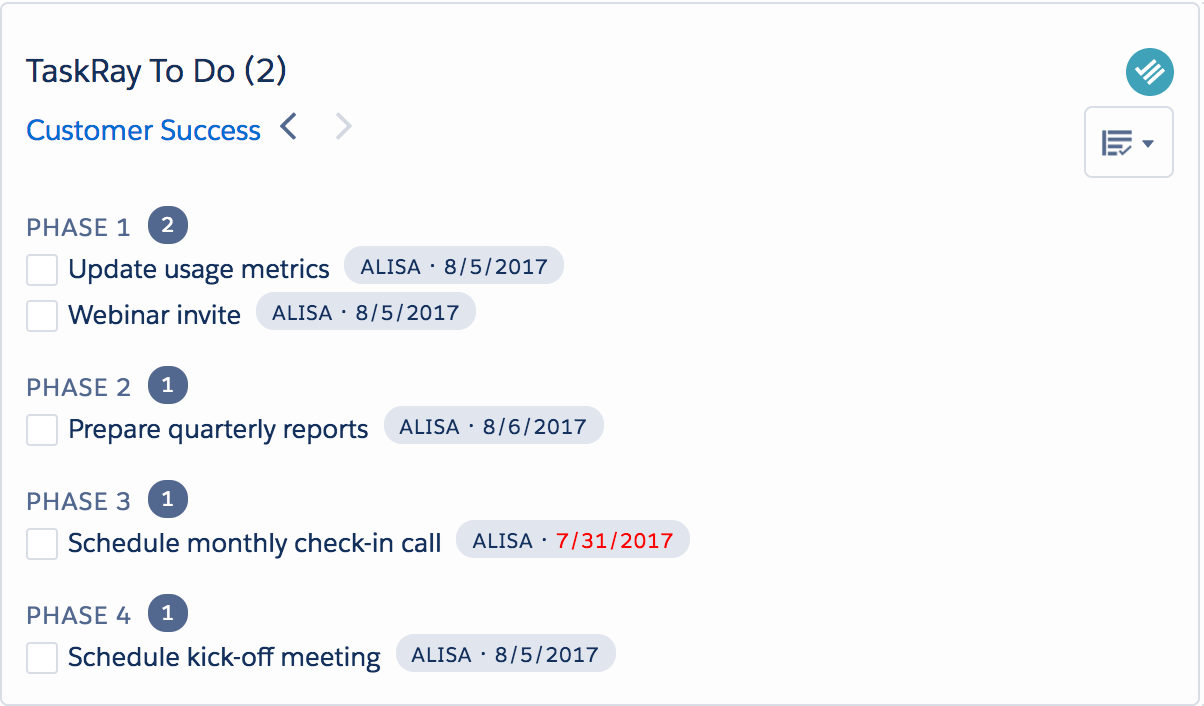 TaskRay Templates
Page Type: Home, Record
Contextual: Optional
A quick way to create projects from saved templates.
Note: If this component is used from a page that has a lookup relationship with TaskRay, the relationship will be automatically populated upon clone.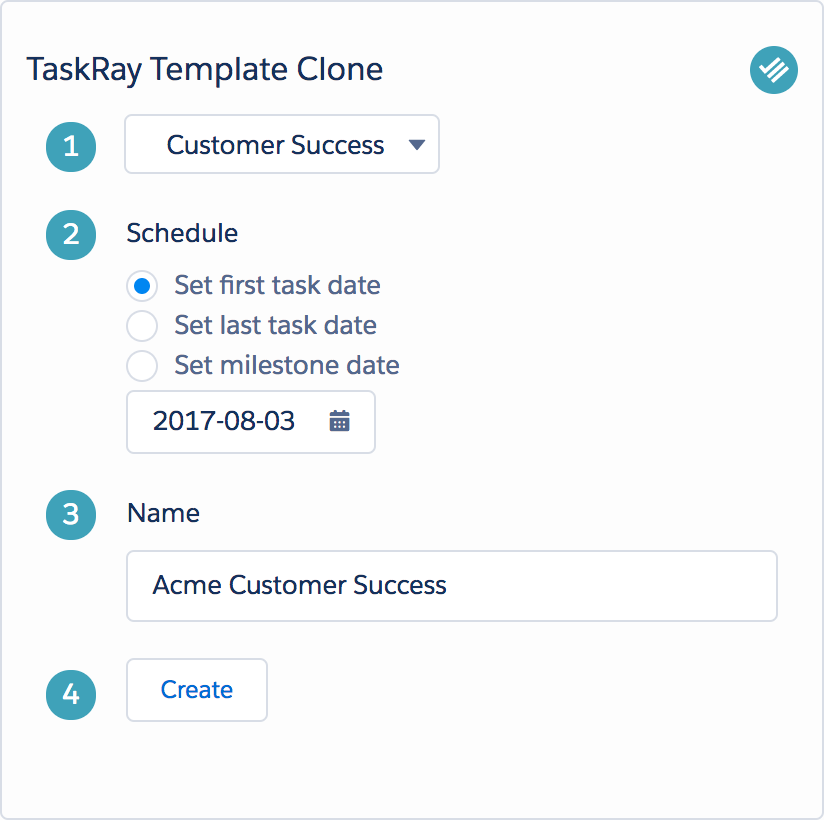 TaskRay Time
Page Type: Home, Record
Not Contextual
Simple way for users to add time tracking entries to the tasks that they are working on.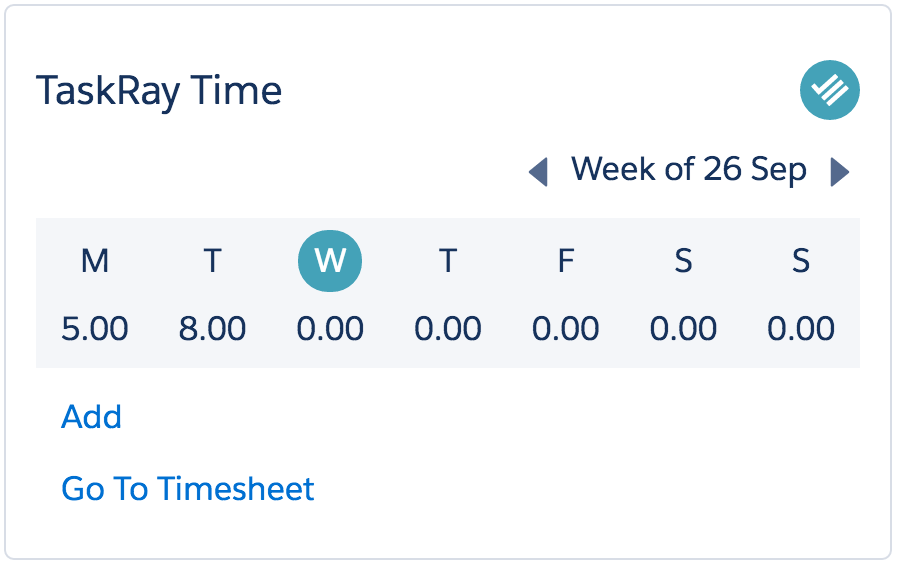 TaskRay Feed
Page Type: Home, Record
Not Contextual
Displays the most recent Chatter messages from the user's tasks and projects.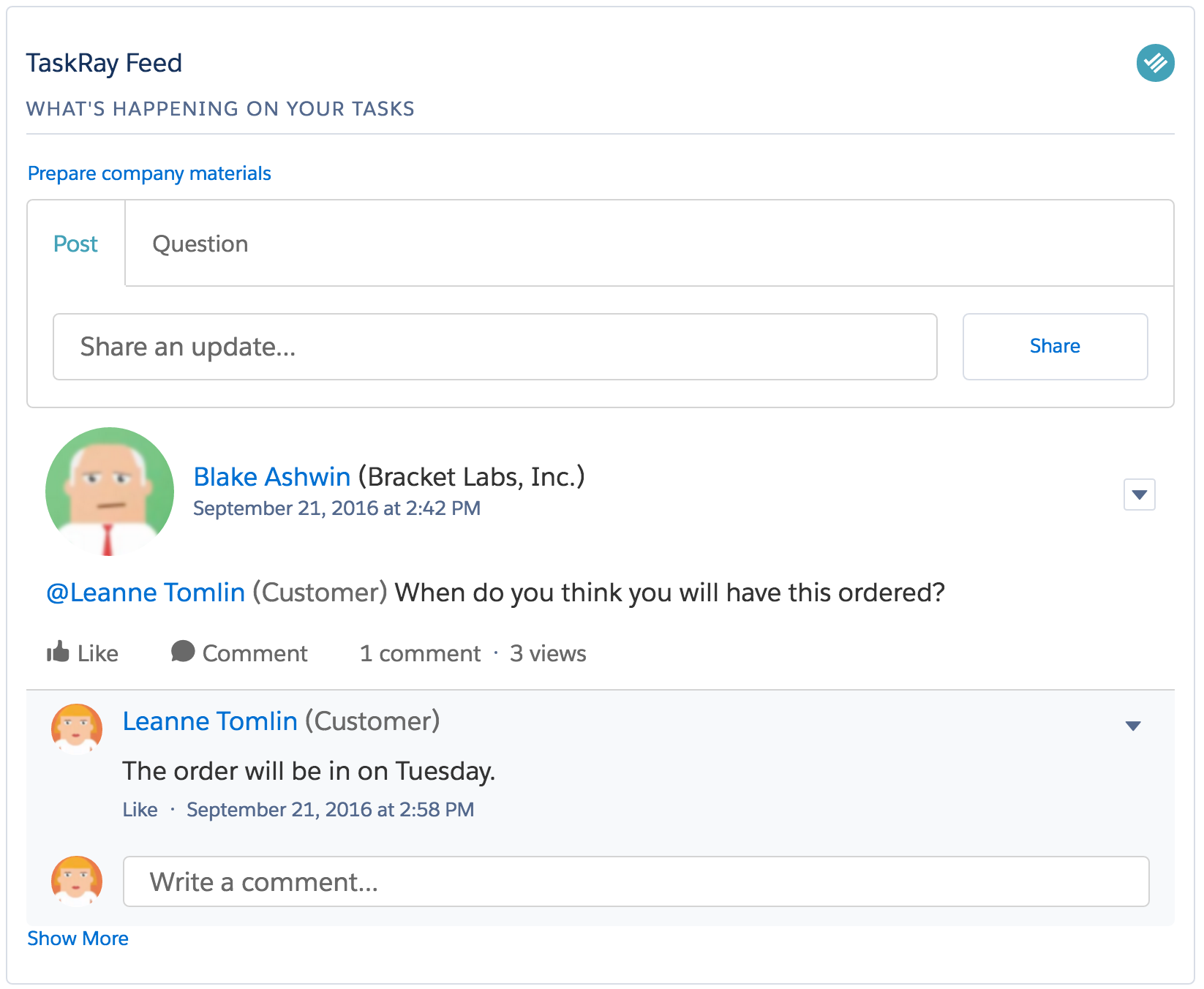 TaskRay Kanban
Page Type: Record
Contextual 
Simplified Kanban board. Allows moving tasks through the different status lists.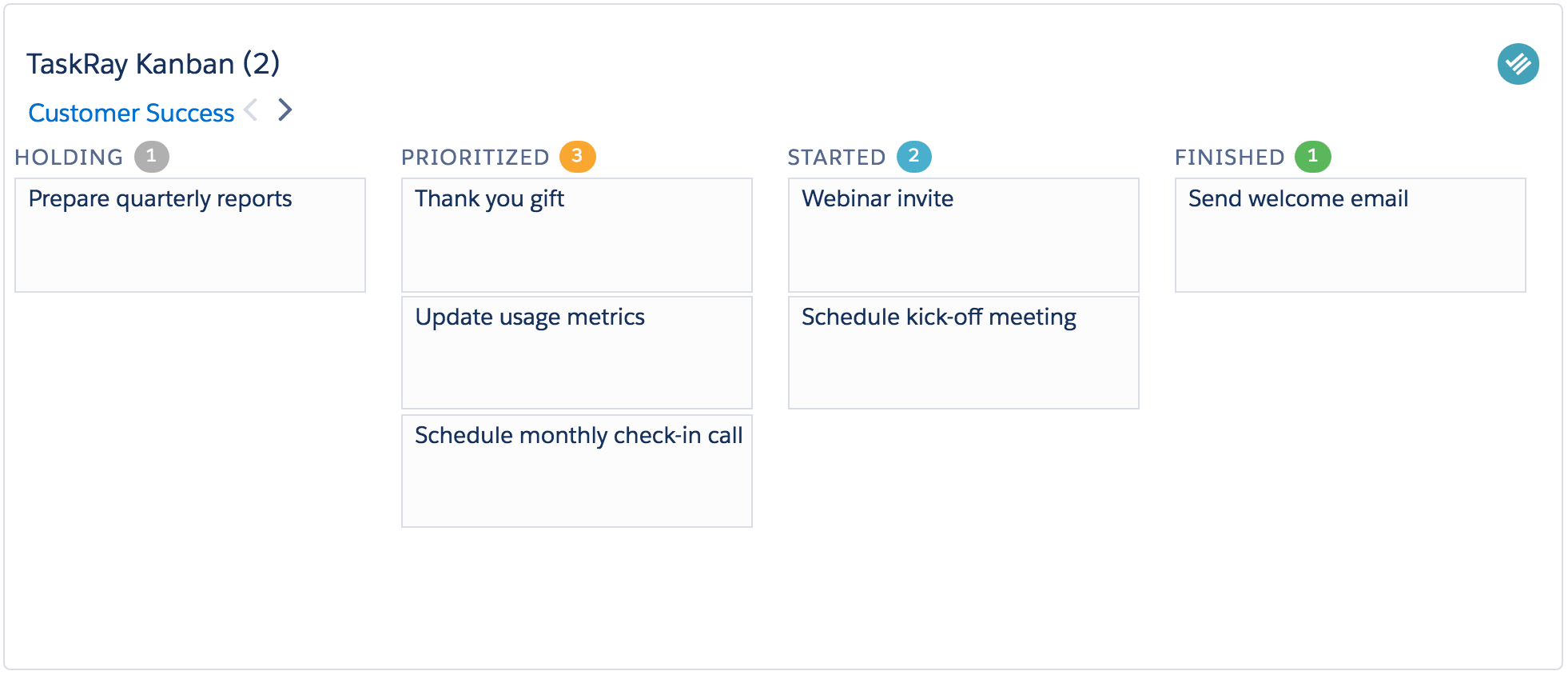 TaskRay Board
Page Type: Home, Record
Not Contextual
TaskRay as a component. Has essentially full TaskRay functionality.
Note: This component is intended for advanced use cases that would involve development work.