Assembling Project Teams and (re)assigning Tasks is quick and easy in the Flux Planner. Taking action is a two-step process:
Select Tasks to assign
Locate the right Flux Resource and reassign Tasks
Step 1: Selecting Tasks
Click on the Project (or Task) bar for the Resource you'd like to reassign to another Flux Resource.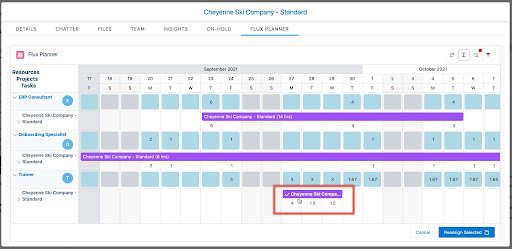 Click the "Reassign Selected" button at the bottom of the screen to proceed to Step 2.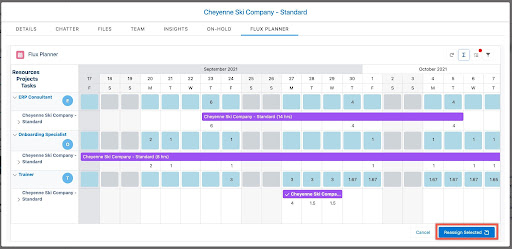 Step 2: Reassigning Tasks
Now it's time to find the right Flux Resource to reassign the Tasks to using "Reassign Mode".
The Reassign Mode displays the resulting utilization levels for each Flux Resource if the selected Tasks are assigned. So at a glance, you can determine the resulting utilization of each Flux Resource before committing to any changes.
By default, the Flux Team associated with selected Tasks is automatically applied in filters to help speed along your workflow. You can remove the Flux Team filter and/or apply more filters if desired to help you make a final decision.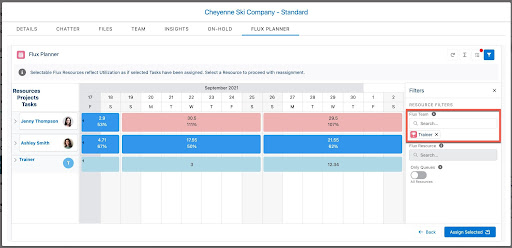 To see what else a target Resource is working on during the date range of the Task(s) being reassigned, you can drill down to view Projects and Tasks. In the example below, we see the 4 Projects Ashley Smith is working on that may compete with this Project being assigned.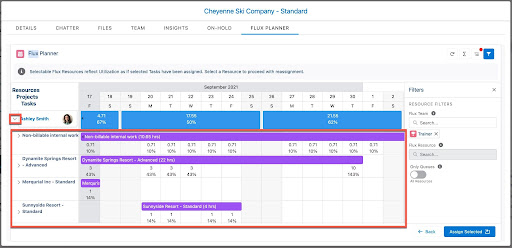 To proceed with reassigning Tasks, click the Resource name of the desired new Task owner, then click the "Assign Selected" button to commit changes. In the screenshot below, we see that Ashley Smith has availability to take on this Project, so we've selected her.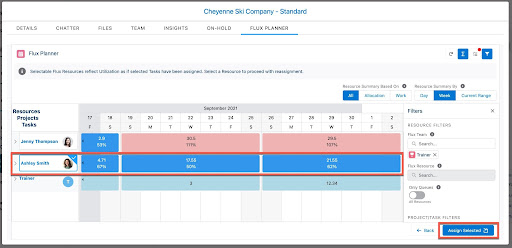 Once reassignment is complete, we return back to step 1 where you can repeat the above steps as necessary to finish assembling your project team.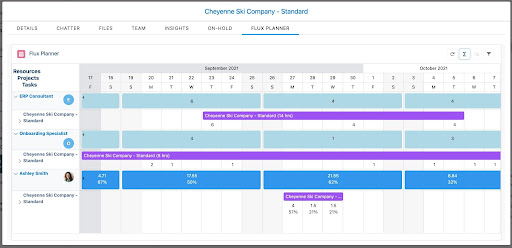 Considerations When Reassigning Tasks
The Flux Planner Contextual Component is also available on an individual Task inside the TaskRay app.
For Tasks, the user automatically proceeds to step 2 for reassignment.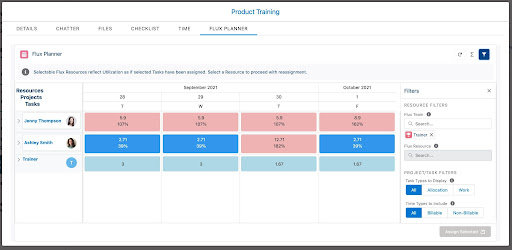 All functions from step 2 work the same as above.


Other Helpful Articles
Add the Flux Planner Contextual Component to Lightning Record Pages
Add the Flux Planner Contextual Component to a TaskRay Onboarding Flow Template