You've set up templates, created projects, and completed tasks - but now what? It's time to think about the data you've collected. What metrics are important to you and how are you going to surface it? Depending on which edition of TaskRay you are on, you can do this in a few different ways.
Let's start with the options that are available for all editions: Salesforce Reports, Salesforce Dashboards and TaskRay Lightning Components.
TaskRay comes with common reports that we've pre-built to help you get started. We recommend, if you need to make changes, make a copy of the original TaskRay report so you can always go back to the source material as a reference. These can be used as-is or modified to better fit your specific reporting needs. You can find these by navigating to Salesforce Reports > All Folders and searching for 'TaskRay'.

Not finding a report relevant to your needs? You can also create new reports from scratch! Start by selecting the type of report you'd like to create - if you want to report on fields from both the project and the related account, try using the 'TaskRay Projects with Account' report type. Then you can add fields and filters based on your requirements.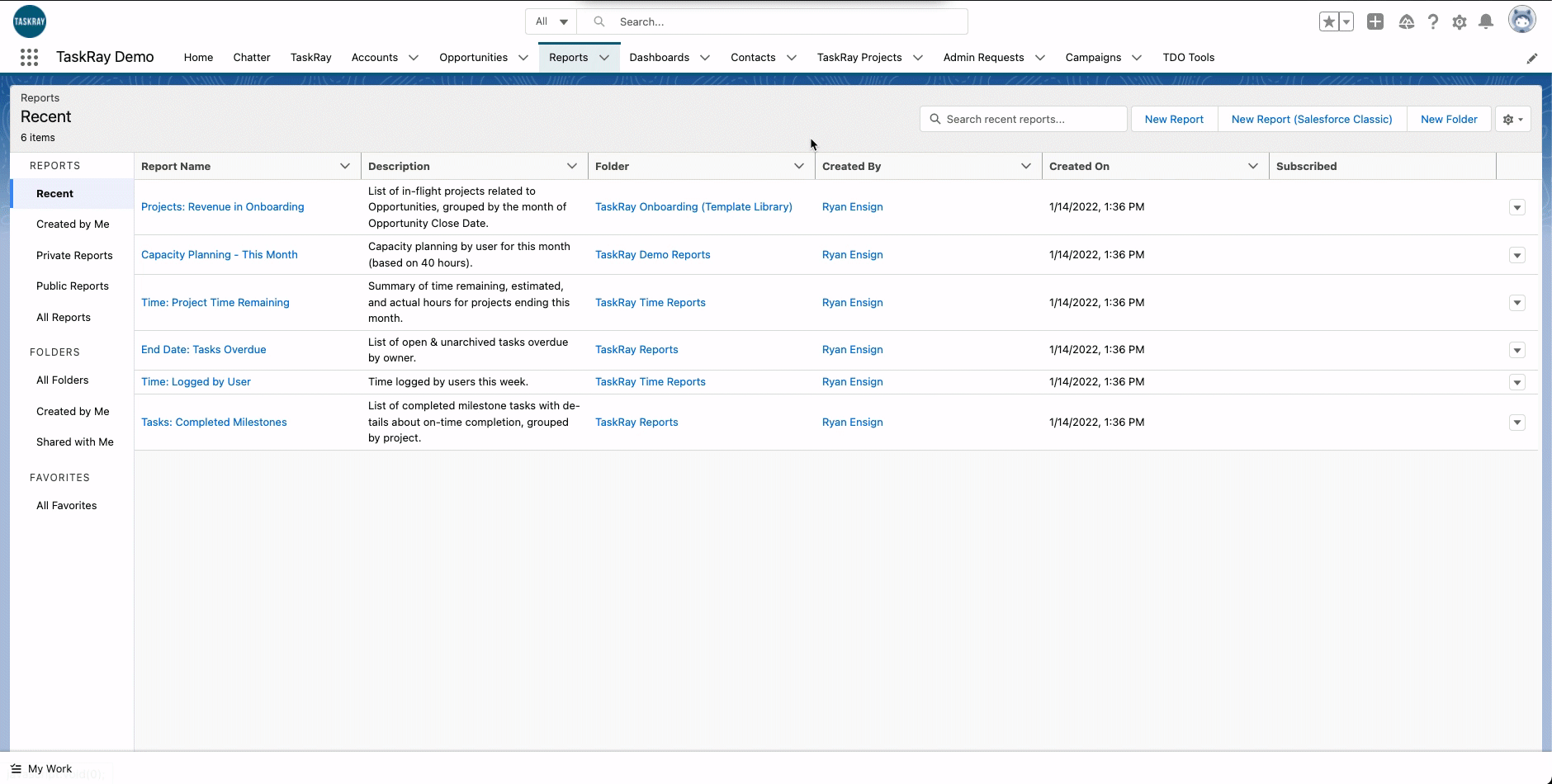 Once you've created reports that meet your needs, you can compile them into dashboards. Different dashboards can be created for individuals or teams depending on the metrics that are important to them.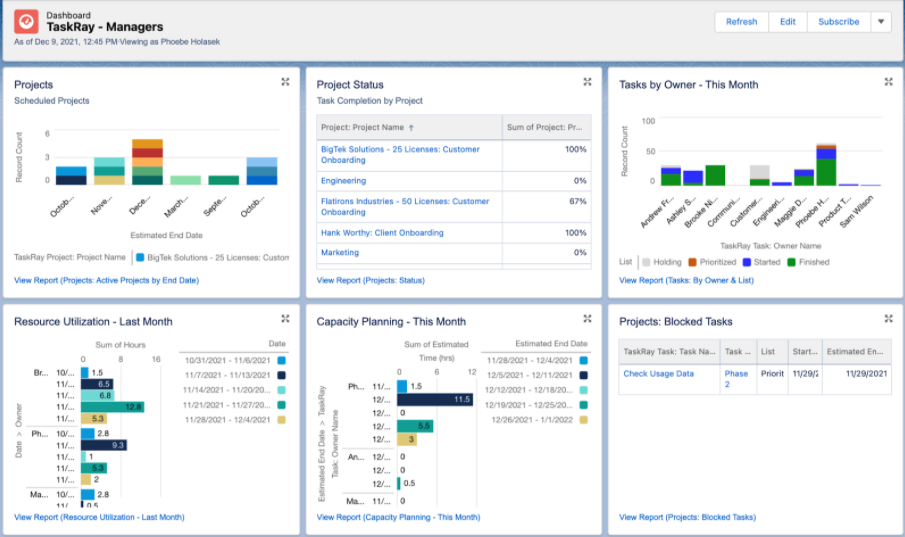 TaskRay has 3 Lightning components that help surface metrics wherever is most convenient for your user: the TaskRay Snapshot, TaskRay Project, and TaskRay Status components. You can learn more about these 3 reporting components (as well as the rest of them) in our TaskRay Lightning Components Catalog.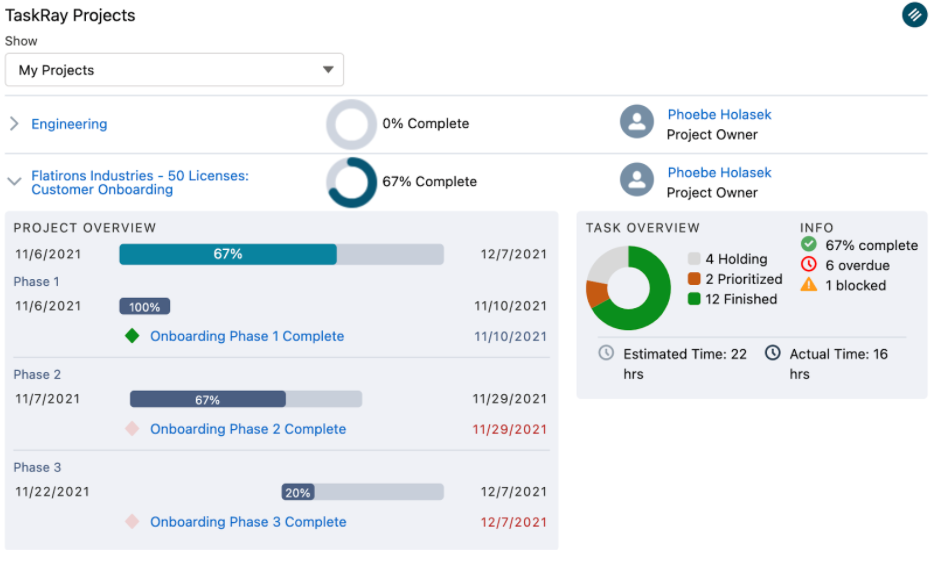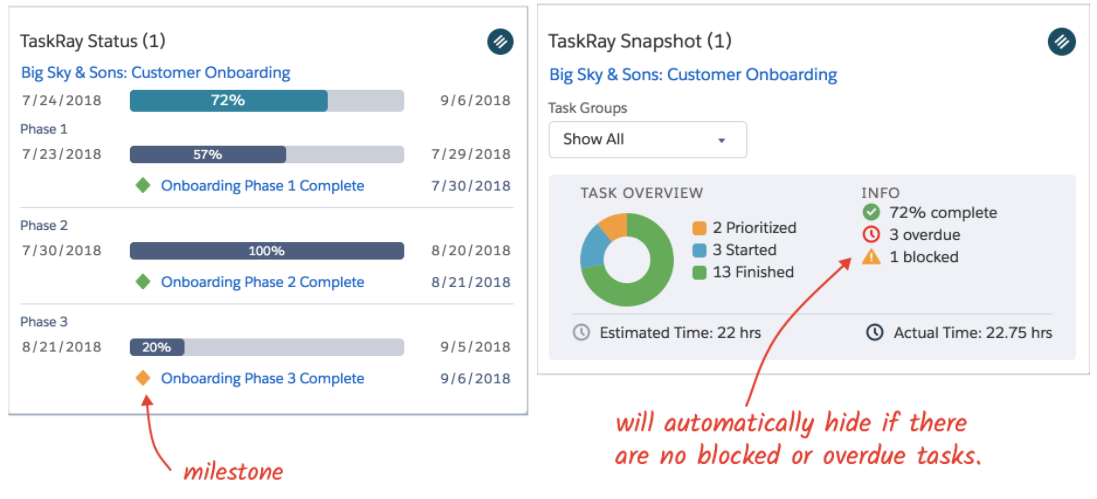 Tip: Using a combination of reports, dashboards and TaskRay Lightning components on a user's homepage can help facilitate user adoption.

The Standard and Premium editions of TaskRay come with additional reporting features within the TaskRay App itself. The Insights tab and the Performance tab give quick insight into project health, progress, and efficiency.
The Insights Tab provides quick metrics on projects that are selected in the bottom left sidebar. This means you can look at overall metrics for a group of projects. For example, if you want to know how your projects are doing as a whole, you could select the 'My Projects' board filter, hit 'select all' and then open up the insights tab. Now you can see an aggregate of your projects' progress, status updates, milestone dates, tasks at risk, and the distribution of tasks by status and team member.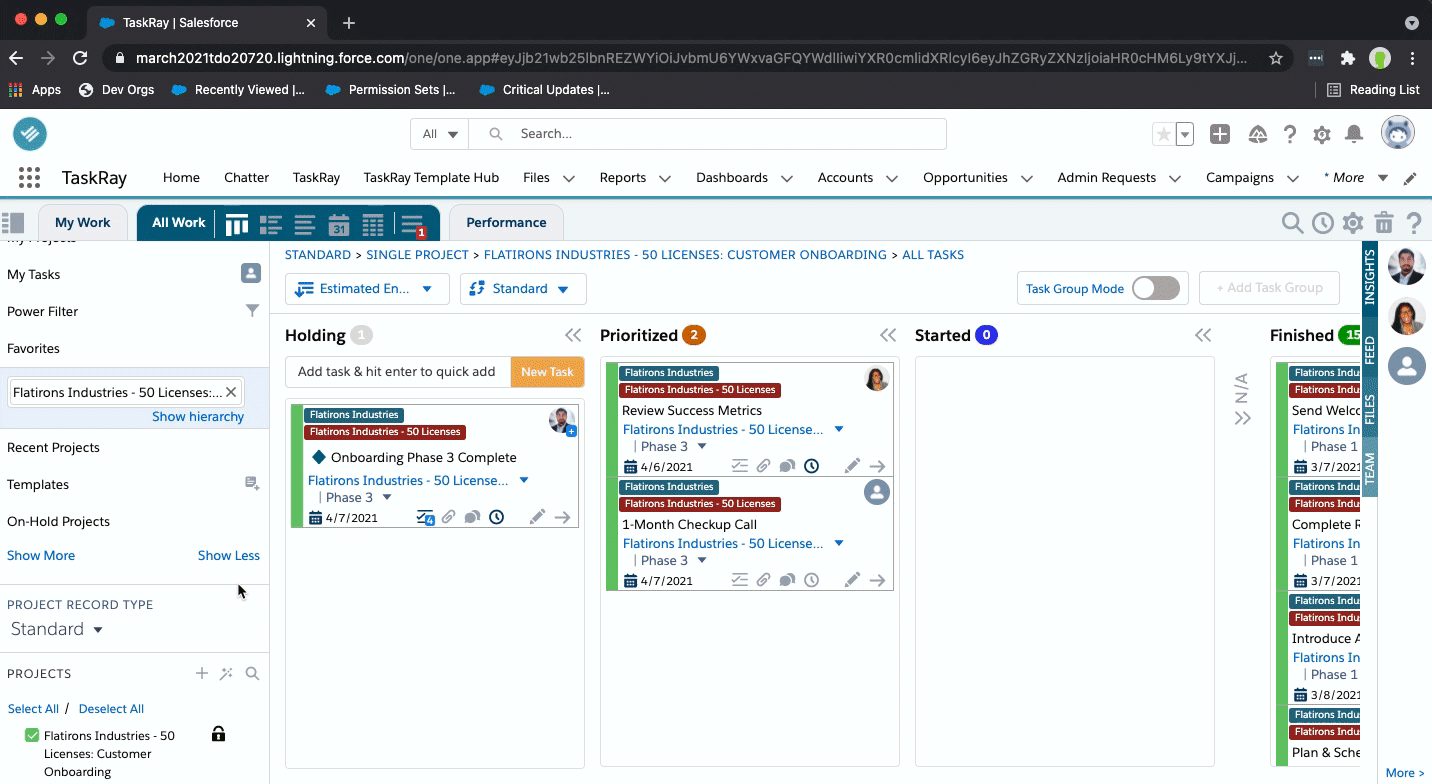 The Insights tab also gives you the ability to create and export ad hoc charts using task information.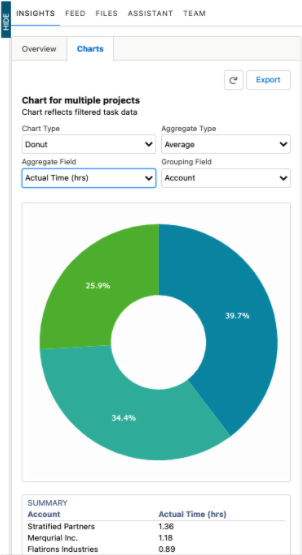 The Performance Tab includes two reporting views - Portfolio view and Template Performance View.

Portfolio View provides a way to view projects and task groups in a list format. In this view, you can get high-level project health insights by seeing project and task group progress as well as configuring the columns to pull in necessary fields.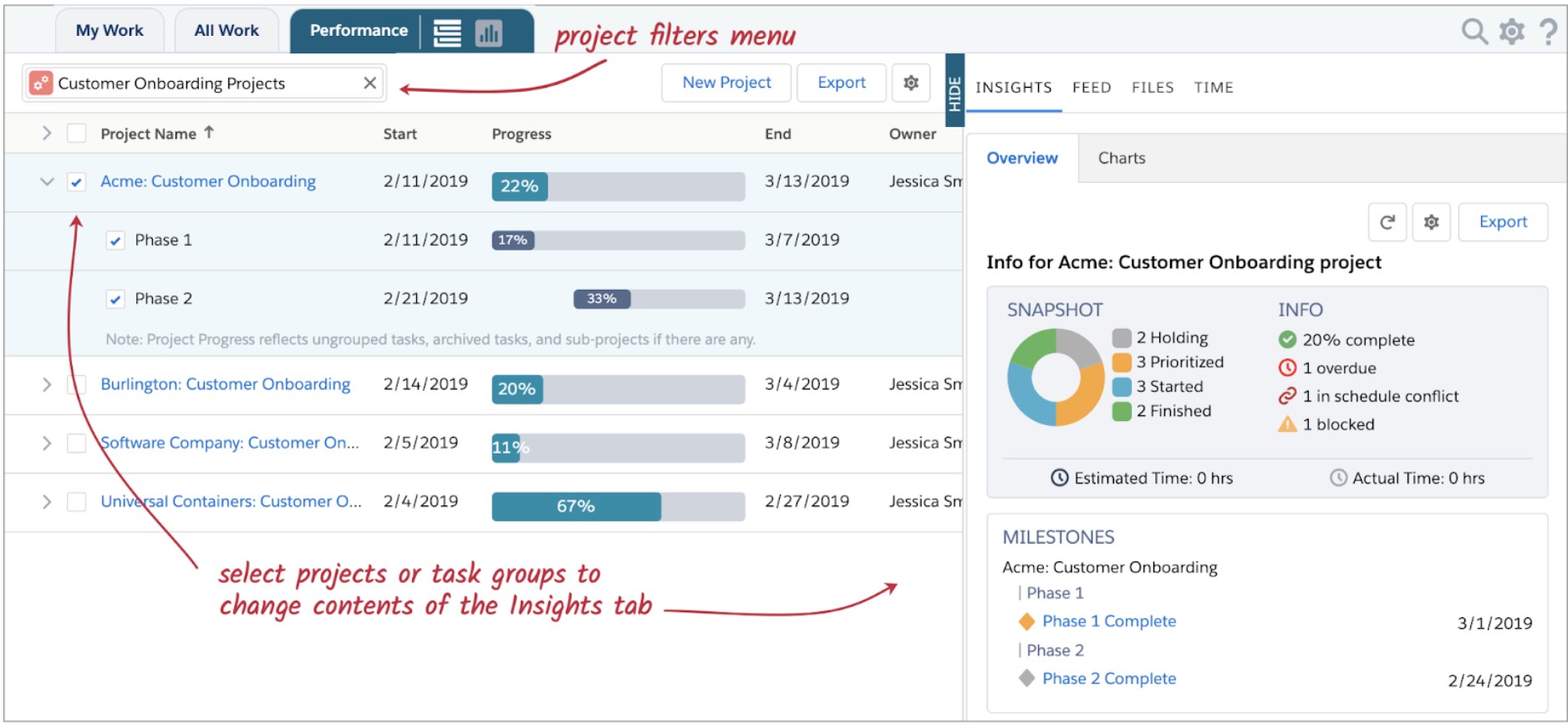 Using Template Performance View you can analyze how templates used in your organization are performing over time. Once a template is selected, you can compare template targets to template averages (based on projects created from the selected template).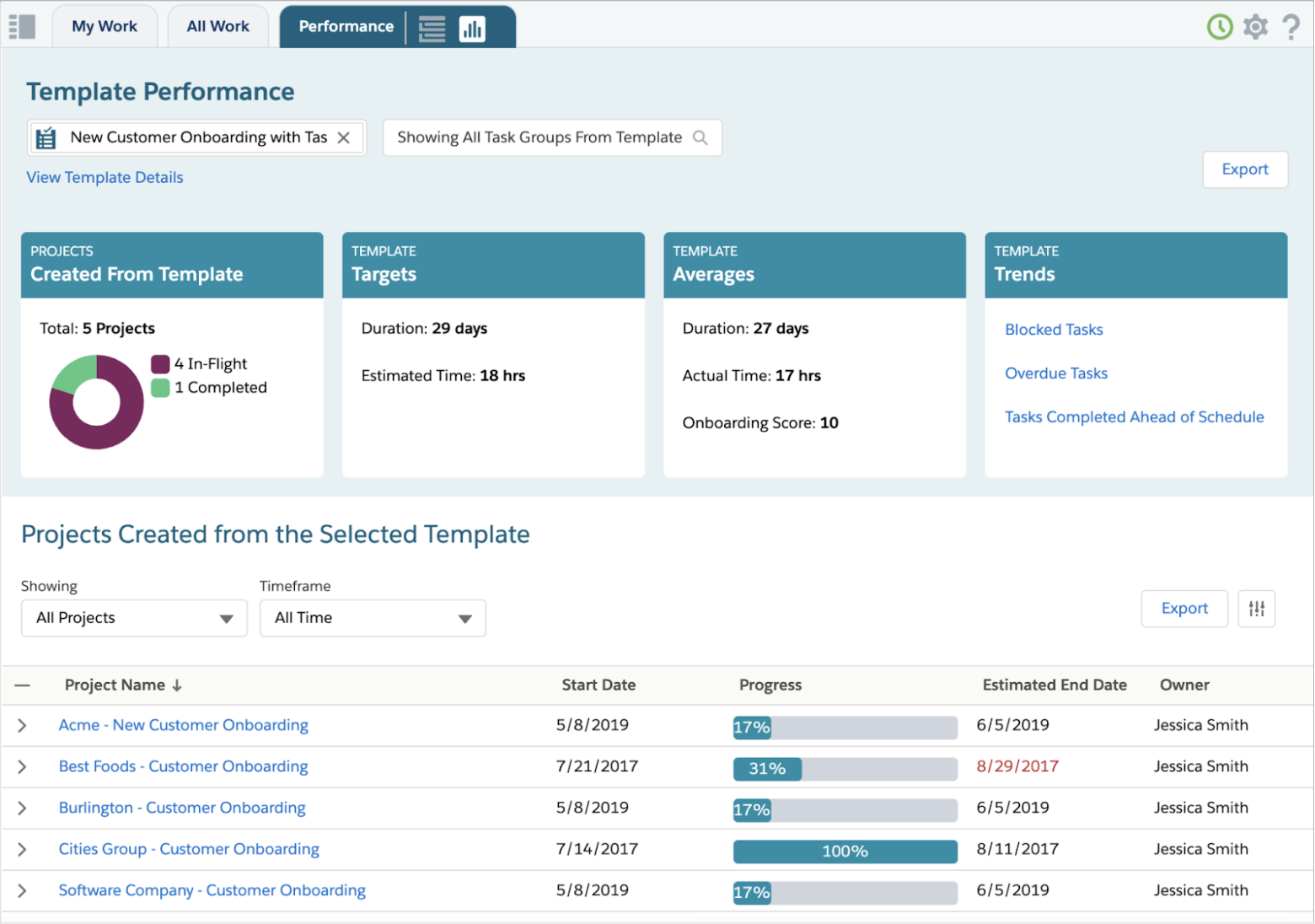 Maybe your template has an estimated duration of 20 days, but on average the projects cloned from this template are actually being completed in 25 days. Why is this? Using the Template Performance view you can hone in on specific problem tasks by seeing which ones are consistently becoming overdue.

Reporting on your data makes refining and improving your process possible. We want to make sure you're optimizing your process based on educated, data-based decisions, so we've made it easy for you.
Whether you're using Salesforce reports and dashboards, TaskRay Lightning components, the additional views in the Performance tab, or the Insights tab, TaskRay's got you covered!
Related Links: